It is the text from here.
Job hunting, job offer publication is "gokinjobuyokosuka"!
Job offer in Yokosuka City is found immediately!
Position offer information of part-time job part, regular staff of neighborhood is found on map immediately!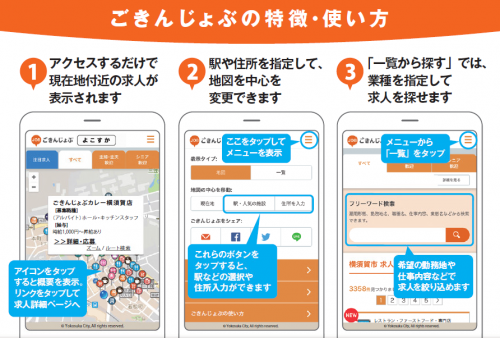 Access is this⇩

(outside site)
To company performing job offer in Yokosuka City
You can utilize "gokinjobuyokosuka" to company working on job offer.
Apply for company wanting job offer publication in either of 1 or 2
It is in 1 application form (outside site) or gokinjobuyokosukano site
Please access "company, store of job offer publication hope".
After filling out 2 following applications, please do FAX (046-823-0164).
(PDF: 1,259KB) 

When you see file of Portable Document Format, Adobe Reader is necessary. Please download one that does not have Adobe Reader free from link of banner.